IFS – Quality of the highest level
We strive for excellence in everything we do and have again passed our annual IFS (International Food Standards) audit with flying colours.

This audit ensures that we adhere to the highest standards globally with our vinification and filling processes in the winery.
This year we were awarded 98.31% and we believe this gives enormous comfort to our customers that we take the responsibility of dealing with food products very seriously. Our processes are rigorous and we are obsessed with hygiene.  Our products are all traceable, and we ensure our employees trained and up to date with current best practice.
Höpler wines – guaranteed Austrian quality
Hoepler was first certified by IFS in 2012.  The audit was done by Quality Austria.  With our IFS certificate we have external confirmation of our high standards and are able to verify, to both our existing and future customers, that we meet the requirements of trading companies on all levels concerning product safety, quality and legality.
What is the International Food Standard (IFS)?
The development of the IFS is based on the ever-rising demands of consumers, the increasing liabilities of retailers and wholesalers, the increasing legal requirements and the globalisation of product supplies. All of these points made it essential to develop a uniform quality assurance and food safety standard.
Sustainable Austria
Höpler is certified as a sustainable producer by Sustainable Austria.  The seal of approval 'Sustainable Austria' provides you with the reassurance that we are monitored and transparent. We will strive to continually improve our footprint. 
We believe it is important to assume responsibility together: for our climate, our resources, and of course for society.  Please enjoy drinking our wines responsibly, always dispose of the glass for recycling and if you have any feedback where we can do things better let us know.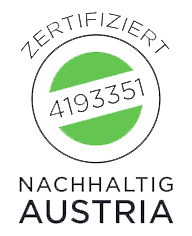 Wine produced sustainably
"Sustainable Austria" is a seal of approval for wines produced in a sustainable fashion. They are produced in observance of certain economic, ecological and social criteria, and are closely scrutinised for adherence to these principles. From the harvesting of the grapes, through the élevage of the wine to the bottling, the entire production process is critically examined for its contribution to sustainability. Sparing use of water, energy, chemical fertilisers and efficient use of machinery are among those aspects positively evaluated – as are, for example – providing fair working conditions and sustainable business practices. Only when all of these requirements are satisfied is a winegrower permitted to label his wines with this seal.
You can learn all about the objectives of Sustainable Austria here